---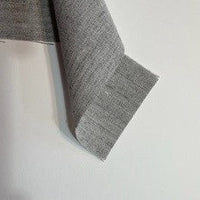 An excellent Sew-In tailoring product.  A woven interfacing when a crisp detail or firmness is required.  Use with medium to heavyweight fabric. Natural in color and measures 22" wide.  Sold by the yard.  
Contents - 47% Cotton Viscose/27%Cotton/ 11% Polyester/11% Horsehair/4% Wool
Do not use in triacetate, seersucker, lace, or rainwear fabric.  Dry clean only with ironing on low, medium permanent press setting.